Green Offices
The service contributes to the inclusion and environmental regularization of producers, developing truly sustainable livestock farming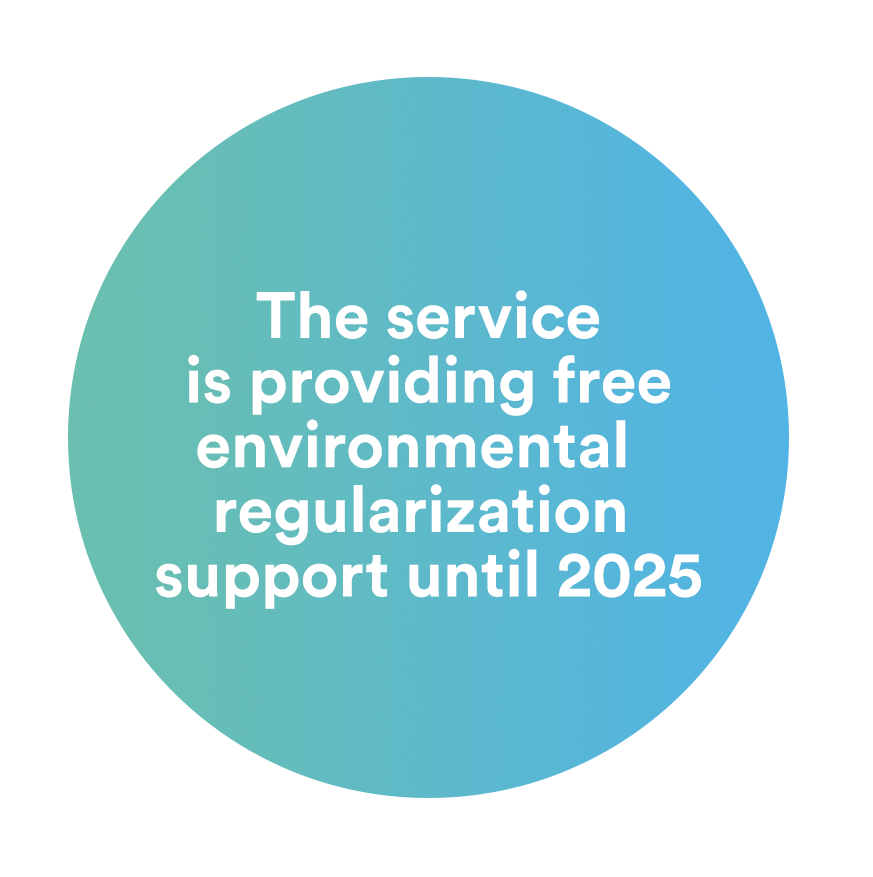 To assist livestock farmers in the Amazon Biome region, especially those that are suppliers of its cattle suppliers, to meet the socioenvironmental requirements by the end of 2025, JBS has inaugurated 16 Green Offices at its processing units in several key livestock activity regions. The service, and the extension of the Transparent Livestock Farming Platform, offers free support to livestock farmers experiencing environmental restrictions in order for them to achieve environmental regularization of their properties.
Today, the company has over 60,000 suppliers registered on its system in the Amazon Biome. The objective is that, by the end of 2025, 100% of the active suppliers will have added the data about their supply chain to the Transparent Livestock Farming Platform to ensure alignment with the Responsible Raw Material Procurement Policy of JBS. By the end of the period, if a direct supplier of JBS has not adhered to the platform to verify the status of their supply network or has not encouraged their suppliers of calves and feeder cattle to regularize the socioenvironmental liabilities identified, they will be automatically blocked from doing business with the Company.
Supporting the environmental regularization of properties

The Green Offices have teams of specialist professionals and a network of certified consultants that work with livestock farmers to assist them with their environmental regularization. These professionals can provide this service in person at the offices located at the Friboi plants, or remotely via e-mail, telephone and WhatsApp.
Free technical support and guidance for producers

It is important to stress that the consultancy provided by the Green Offices is free, and consists of professionals from different areas qualified to assist livestock farmers, especially the suppliers of the direct suppliers of JBS that have identified socioenvironmental irregularities, to adapt to the legislation using several procedures for the environmental regularization of their properties and livestock farming activities.
Livestock farmers interested in regularizing their status, therefore, can turn to one of the Green Offices for specialized professional assistance. This is an inclusion process that will assist both producers and the sustainable progress of Brazilian livestock farming.
Green Offices

operating at Friboi units:
Alta Floresta-MT
Tassio Bizelli
(66) 3512-7513
(66) 99987-8805
escritorioverde.aft@friboi.com.br
Araguaína-TO
Lorena Geyer
(94) 2101-5137
(94) 99276-1451
escritorioverde.mrb@friboi.com.br
Barra do Garças-MT
Diego Pinho
(66) 3402-2904
(66) 99657-2553
escritorioverde.bar@friboi.com.br
Campo Grande-MS
Rodrigo Figueiredo
(67) 4009-9332
escritorioverde.cgr@friboi.com.br
Confresa-MT
Waldemar Cordeiro
(66) 3564-2399
(66) 99645-1873
escritorioverde.cfs@friboi.com.br
Goiânia-GO
Lucas Matos
(62) 3272-1518
(65) 99685-8343
escritorioverde.gyn@friboi.com.br
Juara-MT
Andréia Micheli
(66) 3556-9527
(66) 99668-5747
escritorioverde.jua@friboi.com.br
Marabá-PA
Lorena Geyer
(94) 2101-5137
(94) 99276-1451
escritorioverde.mrb@friboi.com.br
Mozarlândia-GO
Bruna Ribeiro
(62) 3348-8969
(14) 99185-5175
escritorioverde.mzl@friboi.com.br
Naviraí-MS
Isadora Ramos

escritorioverde.nvr@friboi.com.br
Pedra Preta - MT
Andréia Micheli
(66) 3556-9527
(65) 99668-5747
escritorioverde.jua@friboi.com.br
Pontes e Lacerda-MT
Thais Almeida
(65) 3266-9101
(65) 99642-1845
escritorioverde.pel@friboi.com.br
Porto Velho-RO
Yago Teixeira
(69) 3211-8430
(69) 99963-4354
escritorioverde.pvh@friboi.com.br
Redenção-PA
Janderson Matos
(94) 3363-1701
(94) 99158-6497
escritorioverde.red@friboi.com.br
Santana do Araguaia - PA
Ewerton Araújo
(94) 3431-1238
(94) 9276-4303
escritorioverde.sta@friboi.com.br
São Miguel do Guaporé-RO
Gabriela Pioli
(69) 3642-5524
(69) 99917-6405
escritorioverde.smg@friboi.com.br
(11) 99479 6255
escritorioverde@friboi.com.br